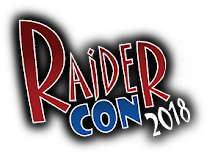 RaiderCon 2018 in Location 3/24
We were contacted to be guests at a local high school's convention! Tori rocked some new Dragon Age: Inquisition cosplay and Josh was eating nuts and kicking butts. We sold art and cosplay prints, and gave a well-attended panel on cosplay materials (slightly modified from PAX South). Josh also participated in a video game roundtable to talk to the people about the industry (as the sole engineer), and Tori helped judge the cosplay contest!
For being a high school con (sponsored by the school's video game club) it was surprisingly big on the guest and vendor side. We had a good time and we're glad we were asked to attend. Hopefully people found our panels informative!