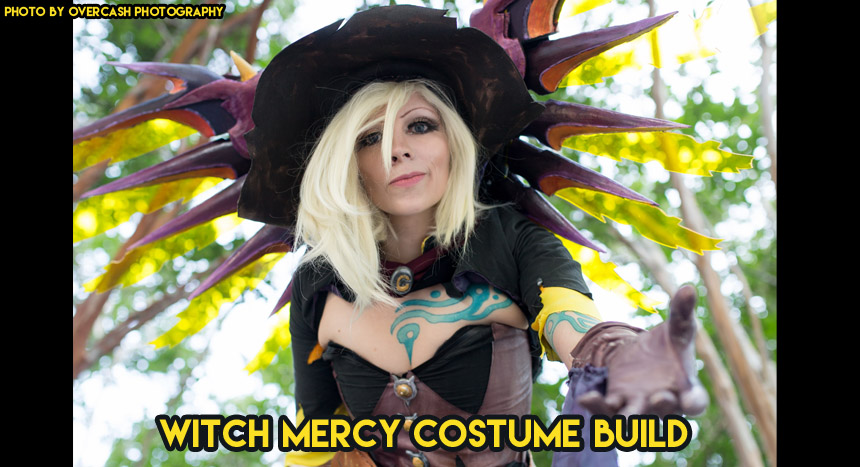 Note/warning: This costume was exhausting to build! It took me ages to finish- I kept having to put off its debut date because it was such a beast. Granted *some* of that was life issues getting in the way, but not all of them. Give yourself LOTS of time on this costume- it's full of fiddly details and if you're anything like me, you'll want them to be perfect. This costume took me about 7 months to finish, if not for life things it would probably still have been 4-5 (most of our costume builds are like 2 months tops), so that just gives you an idea of how much time it can take if you're a filthy perfectionist like me.

This build write-up is broken down by component and each component will have its own material list/resources.
Part II (shoes/hat/gloves) |

PART 1: The Dress & Jacket
Cyberpunk Hawks - Wings

This tutorial is a year overdue, but better late than never. For our cyberpunk variants of Hawkman and Hawkgirl I decided to finally make some motorized, lit wings. Really, there's no other way to say futuristic other than with moving parts that light up. I initially came up with two different plans for wings, but in the end my initial plan for Hawkman failed. This meant a last minute change to mimic the method I used for Hawkgirl's wings - that method is the one I'm going to discuss in this tutorial.
While we tend to make new costumes and chase new ideas, we do, on occasion, return to a beloved character or create alternate versions of a character (typically bunny or pool party versions). Previously there wasn't a way to distinguish between these variant versions of a costume and the standard version of the costume here on the website; they were all under the same character umbrella. Now, however, variants CAN be distinguished! If you go to a character with more than one variant (such as Maya) you can see a list of all of the variants at the top of the page. Clicking on a specific variant will narrow down the description and images to only be relevant to that particular version of the character. Likewise, the Events listings can now be more specific about which version of a character we wore on a particular day.
Beyond that change I also made it so the events pages and the character pages are in sync about character debuts and other appearances; previously that was something I just managed by hand (and had room for user error). Now the character page will actually go through the event listings and figure it all out on its own. While this won't mean much to people using the website, it does mean less upkeep for me.
As always, let me know if there's anything in particular you think this website could use and I'll more-than-likely take a crack at it.
Prints and props

Geekfest is over! It was great getting to meet new people. To anyone who is interested in Tori's panel topics (corsets and post-apocalyptic painting) the materials from her panels will be posted here on our website soon, so keep an eye out! In other news all of the cosplay prints we had on sale at Geekfest are now available on our Etsy page. The props that were on sale will also be up on our Etsy page soon. This way you can have a piece of Cool By Proxy even if you don't want to buy an entire one of our costumes.
Edit: the props are now up on the Etsy page, along with a bunch of costumes!
Welcome to Cool By Proxy Productions! We're a couple in and out of cosplay that makes incredible costumes and props in our free time.
Next Event: No upcoming events!