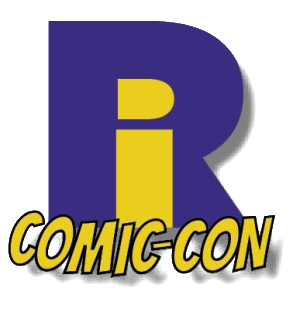 Rhode Island Comic Con 2014 in Providence, RI 11/1
So that convention was a bit of a cluster f*ck, huh? The weather was a miserable, cold, rainy New England day. The traffic in downtown Providence was just abysmal, and parking was scarce. We finally found cheap, available parking (though the cheap part was just a bonus) but it was about 5 blocks away from the convention center, so we had to walk in the cold and rain. Then we had to wait in a line - which was outside - to get in. Once we finally got in we got wristbands for our weekend passes (not badges) which means you would either need to a) not take the thing off all weekend or b) cut it off and glue it back together the next day.
Once we actually got inside it was extremely crowded. Not as bad as NYCC, but still rather unpleasant. We tried to explore the convention, but it was nuts. We met up with the third for our group cosplay (Dixie Cyanide cosplaying as Punk Rock Anna), explored a bit more, then decided to leave to find food. As we were leaving we were told we might not be able to get back in if we left because the convention was at capacity, so they had to hold people outside until people left. We were hungry, so we grabbed food and took our time about it. We got coffee after that and by the time we were done with both we were able to get back into the convention center. At this point it was actually quite pleasant! The crowds had dispersed and we were able to freely wander about, looking at exhibitors, and getting our picture taken. People really seemed to love the punk rock costumes which was one of the saving graces for this convention (the other being the aforementioned Dixie Cyanide who was a ton of fun to hang out with). We had been planning on going Sunday as well, but after the experience we had with the traffic, the crowds, and the weather (Sunday forecast to be even colder) we decided it wasn't actually worth it. We likely won't be back to this con, but at least we (mostly) enjoyed the time we spent there.